Get the Help You Need With Self Moving
Taking on a Do-It-Yourself move? Moving containers are perfect for those with the DIY spirit. Simply pack and load your household goods, lock the container and leave the driving to us.
Here's what you can expect in your Do-It-Yourself residential move: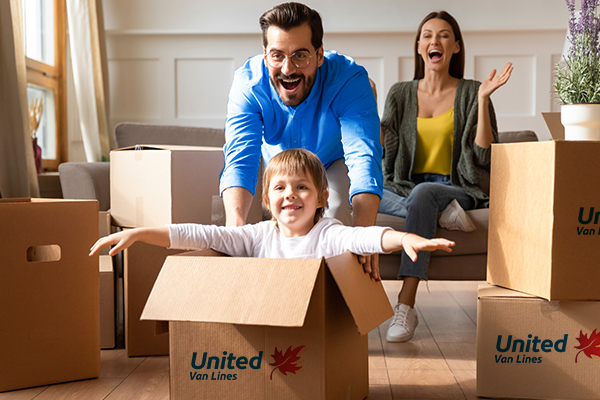 Select Your Moving Container
Our DIY moving container pods are offered in 20 foot containers. Our move experts will be able to recommend the best one that fits your move.
Simply submit a quote with your move details or give us a call, and we'll get back to you with the right number and size of your containers for your moving day.
Book Your Self-move
Once you've been paired with the perfect moving container, tell us when and where, and we'll drop it off at your doorstep. Give us a call or book your move online.
Moving Day
Your container will arrive the morning of your moving day. From the time it arrives, you have 8 hours until the driver will return to pick up your belongings.
Depending on your location, you may have the option to keep the container for an extended loading period. Check with our move experts to see if this service is available in your area.
Load Your Moving Container
Load your belongings at your own pace. It's that simple!
Each container will arrive with quilted furniture pads, skins, straps and walkboards. The amount of equipment that comes with your container varies with size of moving container.
The quilted furniture pads can be used for wood furniture pieces and upholstered items such as chesterfields and chairs. The burlap skins can be used for sturdier items such as exercise equipment and garden tools.
The straps should be used to tie off your shipment once all of the items have been loaded in the container. There are clips on the inside of the container walls to attach the straps to. We recommend loading heavier pieces on the bottom and lighter pieces on the top.
If required, walkboards are provided in order for you to load your moving container.
Once your shipment has been loaded, remove the walkboards and place them back in the designated rack on the trailer.
Secure Your Moving Container
After you've loaded your moving container, close the door, turn the latch, and insert your own lock. This will ensure the privacy of your goods while the container is in our possession. Double check the top latch is secure before applying your lock.
Delivery of Your Moving Container
Leave the driving to us! When your moving container reaches your new destination's service centre, we will call you to make delivery arrangements. Work with your move expert to arrange a delivery time that accommodates transit times and your schedule. 
Move-in Day
Your moving container will arrive at your new home for you to unload your belongings.
Plan ahead to ensure there's adequate space for the trailer that is delivering your moving container. Obtain any parking permits that may be required and reserve the space on the street in front of your home. Once the driver arrives, they will unhook the tractor and will leave the trailer in the designated spot.
When you have completely unloaded the container, leave all materials and equipment it came with inside. The driver will return to reattach the tractor and remove the container.