Frequently Asked Questions
To help you better plan your next move, we've put together a list of some of our most frequently asked questions. Use the filter to easily find the answers you're looking for. 
If you have any other questions that are not answered here, please contact us. We're happy to help!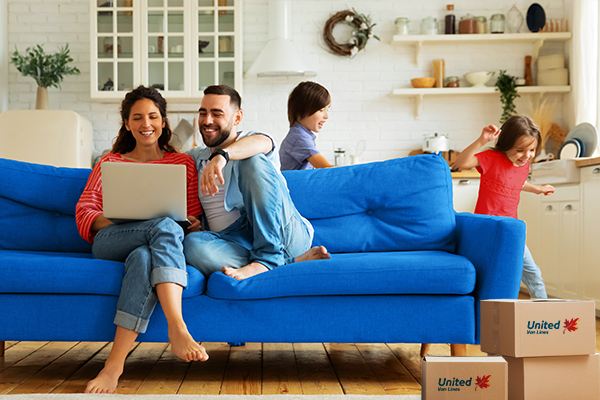 Q:What are the most important qualities to look for in a moving company?
A:The number of years a mover has been in business is usually a very good indicator of how good they are at keeping their promises. A reputable moving company will provide you with a free in-home estimate and will offer a variety of services, including pick up, delivery, packing and unpacking, crating, appliance servicing and special handling.
Q:How far in advance should I schedule my move?
A:You should schedule your move as soon as you have determined a firm date.
Q:What day/date is best to move?
A:Moves are performed during any day of the week. However, moving during the last week/weekend of the summer months are typically the busiest.
Q:Do you pack and/or supply materials and boxes?
A:Yes, we do provide complete packing services. On pack day, your packing crew will use professional packing materials such as clean, recyclable Kraft paper, micro foam, boxes and specialized cartons to ensure your belongings are well protected.
Q:How long does it take to move?
A:Many factors affect the length of time it takes for a shipment to travel from origin to destination, including distance, weight of the shipment, safety code regulations, customs, weather, road conditions and/or ferry crossings. Please allow for extra time and be flexible when planning your move.
Q:Do you have storage facilities?
A:United Movers are equipped with completely secure and clean warehouses. Storage is at an additional charge.
Q:Do you ship vehicles?
A:Yes, we ship a variety of automobiles, trucks, boats and motors, motorcycles, all-terrain vehicles, snowmobiles, trailers, campers, and personal watercraft.
Q:Do you offer moving guides and/or checklists?
A:We do offer moving guides and checklists. Copies of these can be obtained through your Moving Consultant.
Q:Do you sell packing supplies and boxes?
A:If you wish to pack your belongings yourself you can purchase a variety of packing materials through your Moving Consultant.
Q:How much will my move cost?
A:The cost of your long distance move (a move greater than 241 kilometres or 150 miles) is based on the weight of the items being moved and the distance they will be travelling. Your estimate will outline all services your move will include with their associated cost.
A local move (a move equal to or less than 241 kilometres or 150 miles) is priced on an hourly basis. The cost of your move is calculated by the amount of time it will take to pack, load and deliver your shipment and the amount of labour required. Travel time to and from your residence is also included.
Q:Will the estimated cost be guaranteed?
A:Moving Consultants can guarantee their estimates when they have all of the necessary information to do so. For this reason, full disclosure is required. Please point out everything that needs to be moved and any items that you may be giving away and/or selling. Please inform your Moving Consultant of any access issues at destination.
Q:Are there any hidden fees or extra charges?
A:When you move with United Van Lines (Canada) Ltd., all charges are disclosed to you at the time of your estimate consultation with a Moving Consultant. There are no hidden fees or extra charges.
Q:How much time does an estimate consultation take? What method of payment do you accept?
A:An estimate consultation takes approximately one hour to complete. If your employer is to be billed for the move, make arrangements well in advance with both your company and your United Mover. Unless arrangements have already been made, your shipment will need to be paid before delivery can take place.
United Van Lines (Canada) Ltd. offers many payment options including cash, certified cheque, MasterCard, Visa, American Express, and bank draft or money order. Credit card payments must be made in advance of delivery. When moving with a container in our "You Move Yourself" program, payment is due when your container has been loaded and is ready to be transported to destination.
Q:Does my estimate include insurance against loss or damage while my goods are in transit?
A: The Federal Government stipulates that at no extra charge, all moving companies must provide basic compensation for damage or loss, which is called Released Rate Liability.
Q:Can I purchase additional protection coverage?
A:Yes, you can increase the coverage on your shipment and ensure protection to the replacement value of your possessions with Replacement Value Protection (RVP).
Q:How do I earn AIR MILES® Reward Miles?
A:When you move with United, you can earn 1 AIR MILES® reward miles for every $30 spent, before taxes. Learn More.
Q:Can my possessions be stored temporarily?
A:One of the biggest advantages of containers, is that they are the perfect option for storing your household goods. Container storage is possible on long distance moves up to 90 days and is very cost-effective.
Q:Will my furnishings remain clean?
A:Your furniture will be wrapped in clean, quilted moving pads for extra protection. All upholstered items such as sofas and chairs will be wrapped in plastic for extra protection before the quilted pads are put on.
Q:Can I pack some items myself?
A:Yes. It is recommended that you pack only unbreakable items, such as linens and books. Remember, all owner packed items travel at the owner's risk. Professional packing is the best way to safeguard against breakage.
Q:Can I pack clothing in a chest or dresser drawers?
A:For safe transportation the contents of drawers, chests, dressers, trunks etc., should be packed into cartons.
Q:Do the movers remove curtain rods and paintings from the walls?
A:Our crews do not remove any items secured to your walls, including paintings, curtain rods, TV mounts, audio systems and shelving. It is your responsibility to remove any fixed items for your packers.
Q:Do I need to empty out my filing cabinets?
A:For safe transportation the contents within filling cabinets should be packed into cartons.
Q:Do you bring pads to protect the furniture?
A:Any items that are not packed into cartons will be wrapped in quilted furniture pads to ensure that they are protected.
Q:Do you bring protection for the floors?
A:Before loading or delivering your goods all of your floors will be protected with floor runners.
Q:Do you have a weight restriction?
A:There are no minimum or maximum weight restrictions on what we will move.
Q:Will you move my plants?
A:Your plants can be moved. However, we do not accept liability for plants damaged by frost, poor packing or adverse conditions. Plants are shipped at your own risk.
Q:Will you move my pets?
A:Regulations prevent moving companies from transporting live animals on moving vans and none of the major bus lines accept pets with the exception of guide dogs. You will be limited to train, plane, family car or companies that specialize in moving pets.
Q:Are there any items I can't move?
A:Yes. As a matter of public safety, the government restricts the transportation of dangerous goods. Some dangerous goods may be included in your shipment under controlled conditions, while the law prohibits the transport of others. In either case, you must disclose to the Driver every item you intend to include with your shipment that poses a hazard. Some prohibited items include: gasoline, propane tanks, oxygen tanks, fire extinguishers, ammunition, and some cleaning supplies.
Q:When should I contact you if I need to re-schedule my move?
A:If for some reason you need to re-schedule your move please contact your United Moving Consultant as soon as possible to notify them of the change.
Q:Do my appliances require special servicing?
A:Most appliances and mechanical equipment need to be prepared by a licensed professional before being moved. Your Moving Consultant can make these arrangements for you. It is important to remember that appliances or mechanical equipment not serviced by a professional travel at the owner's risk for internal damage. It is your responsibility to clean out the fridge and stove prior to servicing and to ensure all appliances are completely emptied.
Q:When will the movers arrive on moving day?
A: Time should be confirmed one day before load date by a UVL Team member.
Q:Do I have to be present for all phases of the move?
A:It is recommended that you are present for all phases of the move. If you cannot be present during each step of the move you will need to sign off on who will responsible for overseeing each phase of the move.
Q:Can my delivery date be guaranteed?
A:Yes. A delivery spread is calculated based on the weight of your shipment and the distance travelled. Your Move Expert will work with you to arrange a suitable delivery date. If your delivery is delayed for a reason beyond the guaranteed date to you, United Van Lines (Canada) Ltd. will reimburse reasonable expenses for food and accommodations until we've delivered your shipment.
Q:How does the driver keep track of my goods and the condition my goods are in before you move them?
A:All items in your home will be inventoried on load day. Each item is numbered and a brief description of the condition of the item is listed on an inventory of articles shipped.
Q:What if for some reason I can't take delivery of my goods as scheduled?
A:In the event your shipment can't travel directly from origin to your new residence, United can arrange to place your belongings into storage until you are ready to receive them. United Movers are equipped with completely secure and clean warehouses. Storage is at an additional charge.
Q:What can I expect on delivery?
A:Upon arrival at destination, the Driver will provide you with an Inventory Listing called a Bingo Sheet. The crew will call out the item number as they bring an item into the house. It is your responsibility to check off the item on the Bingo Sheet to ensure everything is accounted for. Any loss or damage should be noted on the Driver's copy of the Inventory Listing in the section called Exceptions on Delivery.
Q:Will the movers place my furniture where I want it in my new home?
A:When your goods are delivered, they will be placed in the appropriate rooms of the home so that they are readily available for the owner's use.
Q:Can I ride in the cab of the moving truck with the movers?
A:The Driver will be happy to show you around the truck before they begin loading it. However, due to insurance and liability issues you cannot ride in the cab of the truck.
Q:Can the movers dispose of trash on moving day?
A:The packing crew will remove all the empty cartons and packing material debris from your residence before they leave.
Q:What should I do if something is damaged or lost during my move?
A:United Van Lines (Canada) Ltd. takes every precaution to transport your belongings safely. If a claim does arise, you can file it electronically through our website. Alternatively, you can contact our office at 1.800.668.5544 to have the form emailed to you.