We've Got Your Move Covered
We're on a mission to make moving a milestone, not a millstone. Our move experts are here to plan, coordinate, pack and deliver your belongings with care.
You just have to tell us when and where, and we'll figure out the rest. With us by your side, you can focus less on what you're moving away from and more on what you're moving to.
From start to finish, here's what you can expect from your full-service residential move: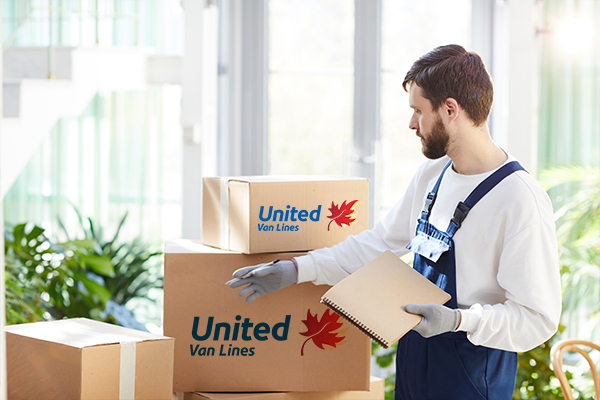 Request a Quote
Talk to one of our move experts or use our online tools to get an idea of your moving costs. Here's where you can figure out what type of move is right for you and your family.
Schedule an In-home Survey
At a time that's convenient for you, an experienced United Van Lines (Canada) Ltd. Member will setup an appointment to estimate the weight of your belongings. We can visit your home or conduct a video survey anywhere, anytime. The choice is yours! During your appointment, your move expert will work with you to compile a detailed list of belongings you'd like moved.
Before we arrive, think of all the places you may have items hiding to ensure nothing is missed during the walkthrough. If you're planning to have items stored, this is the perfect time to let us know! We'll work with you to find a storage solution for your needs.
Your move expert will give you tips on how to prepare for your moving day. We want you to know exactly what to expect before our truck pulls up to your driveway.
Shortly after the appointment, you will receive a customized moving quote. Your move is calculated by weight and distance. 
Book Your Move
Did you know you can Get AIR MILES when you book your move with United Van Lines (Canada) Ltd.? Ask your move expert how you can collect miles with your move.
Once you have a quote in-hand for your perfect move, book it. Your move expert will work with the United Van Lines (Canada) Ltd. Mover in your area to schedule your crew and date of delivery. 
Your move expert will coordinate all the details of your move and recommend a date that best suits your timelines and budget. If you have flexible moving days, ask what you would save if you moved on a weekday or off peak time. 
You can also chat with them about our affordable and convenient packing and unpacking services. If you'd like to pack yourself, they will happily give you guidance. For more moving tips and tricks, visit our Moving Advice Centre.
Packing
If you left the packing to us, our packing experts will be at your home the day before or the morning of your move. We'll survey your home with you so you can point to all the items you'd like professionally packed by our experts. Any special items that will need extra care and attention will be noted during the walkthrough. 
After the walkthrough, we get to work! We pack your items with care using professional techniques and materials. When we pack your belongings, we treat each item as if it were our own. 
Moving Day
On the big day, we'll pack your belongings, load the truck and begin the journey to your new home. Before we lift a single thing, we'll prepare your home for the move. Your bannisters will be wrapped and floor runners will be placed down for protection. 
An inventory record of each item and the condition of your furniture will be taken prior to loading. The condition we loaded it is the way you should receive it at your new home. Our movers only use the best materials and professional techniques to keep your treasures safe while in transit.
We Drive
Sit back and relax. We handle the driving.
Delivery
A driver will call you 24 hours prior to delivery. We'll greet you at your new home with your belongings. Your one job that day is to tell our crew where you'd like each item placed. You'll be able to check off every carton and piece of furniture that's unloaded off our truck with your personal inventory list.
Unpacking
We'll go one step further to unpack each and every carton with speed and care. Learn more about our unpacking services.
We want to make sure you're settled in your new home before we pull away. Our movers will take one last walkthrough with you to make sure you're happy. Our job is not done until you're satisfied.
Start Your Journey Today
Get started with your free moving quote. Contact us now!