Moving To and From the U.S. is Easy - Cross-border Moving
Moving cross-border to or from the U.S.A.? Transferring for work, heading to college, setting out on a new adventure or moving for love?
Whatever your reason for moving to the U.S., we're here to make your transition effortless.
Everything You Need From a Moving Company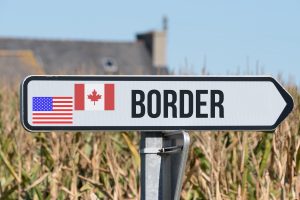 United Van Lines (Canada) Ltd. offers a complete menu of options to fully support your transition to the US. No matter the relocation challenge, our affordable moving service options are adapted to your unique needs.
We know you have a lot to get in order before you move south of the border. We're here to take care of your entire move for you so you can focus on the exciting changes ahead – even the packing and unpacking!
Our move experts will work with you to put together the package of services that make sense for you. We're here for you every step of the way, even after the movers have left.
Understanding your responsibilities and documentation requirements is key to a successful move. Avoid shipping delays by planning ahead with our move experts. We'll take you through all the intricacies of moving your belongings across the border, from what you can and cannot pack, to filling out all the necessary forms, to how to declare your things. Lean on us to carefully relocate you to the U.S.
Did you know when you move from Canada to the U.S. it is not necessary for you to be present when your goods cross the border? You must, however, upon entry declare your residency before your shipment can cross into the U.S. border. Both countries have specific regulations regarding the items you can or cannot import. Your move expert will be able to guide you through the list of prohibited items prior to packing your home.
Please ensure yours and your family members' passports, birth certificates, photo ID, social insurance and security numbers are up to date prior to crossing the border.