Looking for Local Moving Services Near You? We've Got You Covered
Moving locally, within your city? United Van Lines members offer local moving services within 82+ cities across Canada.
Find a United Local Mover Now!
What is a local move? A local move is a move equal to or less than 241 kilometres or 150 miles and is typically priced on an hourly basis.
 The cost of a local move is calculated by: 
Who best to move you in Canada than Canadians? United Van Lines (Canada) Ltd. is proud to be 100% Canadian owned and the number one name in moving. Our network of Canadian moving companies have been moving people like you for generations. Rest easy knowing you're in good hands.
Our local movers are well experienced in small to large moves. A small move is usually a one-bedroom house/home, studio apartment, dorm room or a move from a storage unit. While a large move is typically any size home equal or larger than a two-bedroom house/home.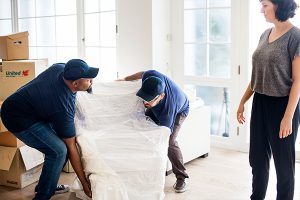 In our decades of experience, no two moves are ever alike. We have a comprehensive list of state-of-the art services to get you settled into your new home at your convenience. 
Our move experts will work with you to design a move that is uniquely you, no matter what you're moving or where you're moving to.
We Can Take Care of Everything For Your Local Move
Moving is a lot easier on you and your family when you take advantage of United Van Lines (Canada) Ltd.
Full-Service residential moving. In fact, we can take care of everything for you.  From carefully packing your delicate china to shipping your vehicle, no detail is too small.
You Move Yourself (DIY) - Perfect for Small Budgets
You pack, we drive. Simple. Our self-move solution is an easy and economical approach to relocation, perfect for those who have a Do-It-Yourself attitude. Our top of the line moving containers and professional drivers make United Van Lines (Canada) Ltd. the leader in Do-It-Yourself long distance moving solutions for Canadians.